ABOUT US
In a hectic world, we've chosen a calm and peaceful direction, leading to timeless results.
Each exquisite furniture piece is meticulously handcrafted from locally sourced wood, marrying artistry with a strong environmental ethos. We take pride in fashioning timeless treasures that not only beautify your space but also contribute significantly to a more sustainable world.
Hidden Gems Design is highly coveted among England's leading interior designers and architects. Our wood and ceramic creations boast an enduring appeal and are hand-made in the heart of London, with all wood sourced exclusively from the UK. This ensures a remarkably fast lead time, ranging from 3 to 8 weeks.
With our energy and the energy of nature, we aim to lighten and transform your home into a tranquil space.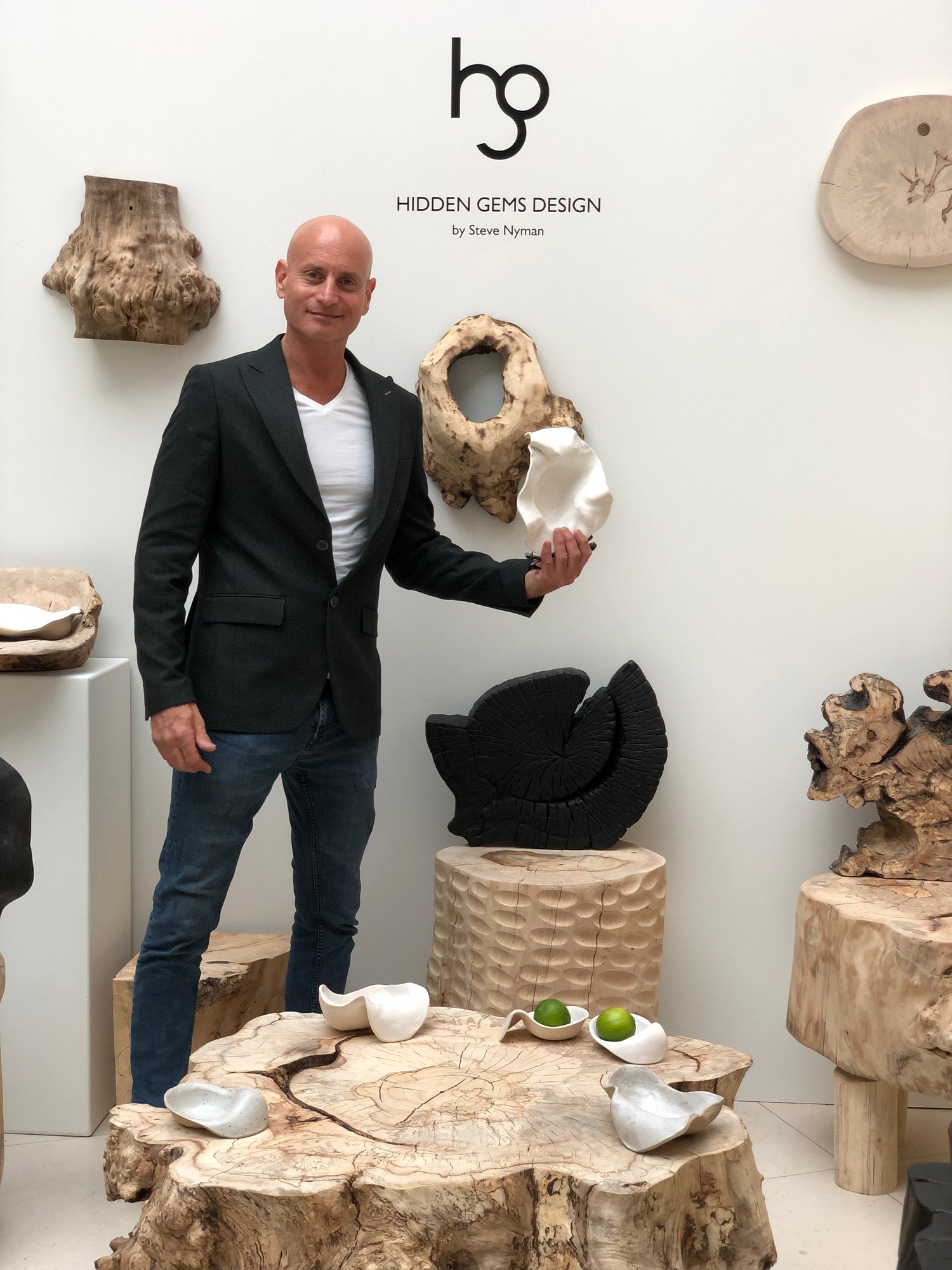 Steve Nyman
At the heart of our creative studio is Founder Steve Nyman, whose lifelong passion for nature's creative beauty and design fuels our inspiration. With a dedication to original and authentic design, and years of creative experience. Steve has crafted products that seamlessly infuse a sense of ease and refinement into any interior space.
HIS STORY:
On a long awaited trip to the Far East, he stopped and discovered the reality of his love and passion, pure untouched nature. He stumbled across drifted woods and unique shells of all shapes and sizes and was immediately drawn and attached to them. With an urge to bring home one specific driftwood but didn't due to it's size, he left with some interesting shells instead and with his visual photographic memory he headed home with an aim to make his dream come true.
Some time later in London, he managed to source  & design these harmonious treasures for your home. With an amazing team of wood experts who share his passion and love, Hidden Gems Design are able to make what we hope you'll treasure as much as we do. Hand made in London with love and care, using top quality skills, well sourced materials and deeply researched natural finishes that are food friendly, without destroying the natural colors and textures of the specifically sourced rare wood
OUR PROMISE & PROCESS
Here at Hidden Gems Design we like to be transparent about where our wood is sourced from and how it is produced, we understand you as our conscious clients how important that is.
We want to protect our precious earth by using reclaimed urban trees and save them from being destroyed. We therefore have our resources to select our pieces from the yards that tree surgeons take them to.
We are proud of each and every one of our products - how they look, their quality and how they are made and used. Our favour to more ethical and raw, natural designs, doesn't mean the quality falters. We make sure they are to a high standard and finish, preserving the natural textures and even flaws of the natural wood will only to add character.
We implement efficiency measures, promoting recycling, reducing our use of natural resources and carefully managing our waste.
CONTACT US
07952000229
info@hiddengemsdesign.com
SHOWROOM - The Factory project, 1 Factory road, London E16 2HB (free gated parking)